Celebrating 30 Years of ABE (1990–2020)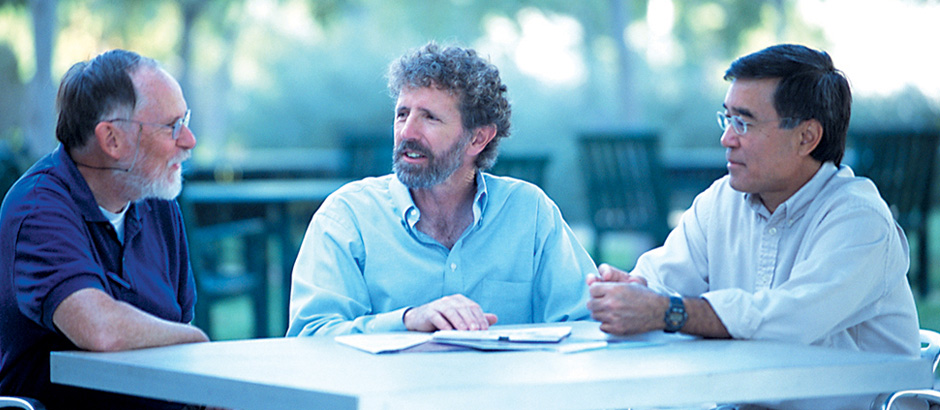 Though the Amgen Biotech Experience now reaches approximately 90,000 students and 1,500 teachers in a typical year, the program had humble beginnings. It all started with a group of scientists and teachers who had a passion for sharing their knowledge with students.
Amgen scientists believed that the company could be instrumental in providing professional development to area high school teachers, toward a goal of improving science education for students. In 1989, they worked with a biology teacher in Thousand Oaks, California, Hugh Nelson, to learn the procedures Amgen uses to develop biologics, and Nelson then worked with an Amgen scientist to fine-tune a series of labs for high school students. Amgen agreed to provide equipment and chemicals to teach the lab procedures in area high schools.
"The labs put students in touch with the reality of modern science," says Nelson. "It takes money to do experiments, and Amgen provided the funding for this important, transformative program. I'm no less in awe of the program [now] than I was in 1989." DOWNLOAD ARTICLE
In 1999, Amgen enlisted Marty Ikkanda, a professor of biological sciences at Pierce College in Woodland Hills, California, to revise the program's curriculum to resemble his college classes. The revised program was rolled out to 20 schools the next school year, and had grown to 30 schools by the school year's end.
"Teachers tell us they don't have attendance problems when they're doing the Amgen biotechnology labs," says Ikkanda, who retired from the program in 2013. "It's a fantastic way to interest students in science." In 2005, the Amgen Foundation, the main philanthropic arm of Amgen, partnered with Professor Ikkanda to expand training outside of Southern California. Over several years, the program expanded to new Amgen communities in the United States and Europe.
In 2013, the Amgen Foundation joined forces with Education Development Center, a global nonprofit organization with deep experience and expertise in science education, to establish a Program Office to support and strengthen the program. The program has continued to expand into new Amgen communities internationally.
A collaboration that began 30 years ago inspired the ongoing commitment of scientists and teachers to share their knowledge of and passion for science. The Amgen Foundation is proud to continue its support of a program that is stronger than ever—and poised to bring real-world biotechnology to a new generation of teachers and students. "That pioneering spirit distinguishes Amgen," says Eduardo Cetlin, president of the Amgen Foundation. "We're forever grateful to those early collaborators for the roots of this powerful program."