Andrea Seitz:


A Winding Path to Biotech Communications
Medical communications has a broad range. It provides opportunities to explore fields beyond the core job.
Andrea Seitz is working in her dream job. A medical communications team leader at Amgen in Munich, Seitz works to explain complex and important data that will enable physicians to make informed treatment decisions. She has followed her instincts throughout her journey, starting with an early interest in nature, eventually leading to a PhD in biological sciences and, after much persistence, landing her a career at Amgen where she has been for 14 years.
ABE spoke with Seitz about her fascinating journey, early lessons learned, and thoughts she has for students trying to figure out their paths now.
How did you first become interested in science?
As a child I was interested in everything that was new. I was always curious. I would bring plants and animals into our flat until my mother told me not to. Everything about science was interesting to me.
What was high school biology like for you?
During high school in Germany, you have the last two years to decide what to focus on, and I chose biology as one of the courses. Biology was something unlike math or reading; it was related to nature, and I was always fond of nature. I had a fascinating biology teacher who was really passionate about biology and was able to transfer his passion to us. We had the opportunity to do some practical sections within biology early on. I remember our teacher asking us to observe a snail going over a razor blade. The snail had a big shell and managed to crawl over the blade as if nothing was happening; this was very fascinating.
After high school, did you pursue biology at university?
Yes, I pursued biology at [Ludwig Maximilian University of Munich], where I could take courses in zoology and botanics and other areas. I thought that zoology would be the most interesting, but I didn't think that would lead to a job, so I decided to focus on microbiology and genetics. It was really interesting, and we had a great small group that worked together as a team.
What did you do after your university program?
In Germany, we finish with a diploma thesis, which is what I did. After that, the only thing I was sure about was that I didn't want to be in the lab. I was interested in communications. I wanted to communicate fascinating things about biology. Despite that, I decided to do a PhD thesis where I did extensive lab work for a couple years with the hopes it would give me enough professional opportunities outside the lab after the fact. If you do not get a PhD, you may be qualified only for jobs that are in the lab, and that wasn't attractive to me. I wanted to broaden my opportunities. During my PhD program, I was the one you could always ask about how to do a practical lab quicker. Efficiency was my specialty.
What did you do after your PhD?
I got a job at a biotechnology startup near Munich that was doing electrically based assays where you could put probes on there to identify, for example, pathogens in food. We were eight people in the beginning, a mixture biology and biochemistry. I worked to establish the lab for the samples. They were quite successful when I started, but after 1.5 years, they went bankrupt. It was a really hard experience because their ideas were brilliant, but they were not able to bring them into practice. It was an interesting experience at my first job to have to stop while just having started.
What did you take from that experience?
It was useful because from then on, I knew that whatever happened, I would fall on my feet. When one door closes, another one opens. It is important to know in your early years that if you are passionate about what you are doing, you will find a way.
Is that when you made it to Amgen?
No, not yet. I applied for a position at Amgen, but it didn't work at the first try. So, I took a course on journalism and communication through an educational program at the unemployment agency. I was then able to join an interesting company doing roadshows in a "nanoTruck" on nanotechnology, sponsored through the Ministry of Education and Research. We were booked across Germany by cities, schools, or companies for science days or special programming. I did that for one year while I continued to apply to jobs, including at Amgen. Finally, Amgen invited me to an interview, and I got the job as a medical communications specialist. I was not experienced in pharmaceutical companies; I didn't know much about it, but they were very interested in the profile of someone interested in both science and communications.
Now that you have been at Amgen for 14 years, what do you like most about your job?
It's a thing of passion. Medical communications has a broad range. It provides opportunities to explore fields beyond the core job. It's really a big chance to be involved and collaborate. I worked on some European projects, and I am working closely with some global colleagues right now. I also have had the option to move from one therapeutic area to another; I changed from nephrology [the branch of medicine dealing with kidney function and disease] to oncology [the branch of medicine dealing with the prevention, diagnosis, and treatment of cancer], which I have now been doing for 12 years. Since January of this year, I have been team leader for medical communications at Amgen across all products. In this medical communications job, you can grow personally and develop, even without a sheer career path upward.
In your communication role, who is your primary audience?
It's really different target groups we need to inform about new drug data—it's physicians, of course, but also various other internal groups, such as sales teams and product managers, and other external groups, such as nurses. You always have to adapt your communications according to the target group, which can be challenging. It's fine tuning how to develop your messaging, ultimately to serve the patients.
Thinking back to your high school biology class, did you imagine this is where you would end up?
Yes and no. Looking back, this is the job I always dreamt of, but I was quite open to opportunities. To students who have to decide what to do in the next step, they must first pick something they are interested in. And then you have a profile of strengths and weaknesses, and you have to find out through your journey through university what this profile is and then follow the jobs that fit. If you are open to what is coming your way, you will never fail.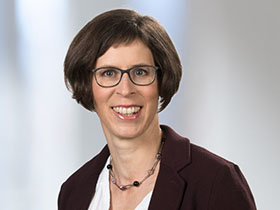 Job Title
Medical Communications Team Leader, Amgen Germany
Education
Bachelor's degree in Microbiology, Genetics & Immunology; PhD in Molecular Biology
Connect
LinkedIn