David Hansen:


Bringing Technical Support to Biotech
Artificial intelligence (AI) and machine learning are changing how people collect data. We will have to be more strategic in terms of how we think about technologies in our area, in particular their integration in clinical research.
For David Hansen, learning how to work with others has been his single greatest asset in navigating a technical career. Now Executive Director of Global Statistical Programming at Amgen, he reflects on a career that started in math and science but has evolved to include program management and collaborating across disciplines to bring life-saving medicine to people around the world. He spoke with ABE about this path and advice he has to students.
How did you get started in biotechnology?
I was always good at math and science, and from high school went into an industrial engineering degree at Penn State. What I liked about industrial engineering was that it seemed like a focal point for other engineering disciplines – involving project management and problem solving.
From there, a classmate of mine who had an internship at Merck, recommended me to her boss to replace her as a co-op student in the summer doing IT support. To be honest, I didn't have a lot of direct IT experience and didn't understand what they were looking for in terms of providing tech support.
When I spoke with hiring manager, I learned he wanted someone who could speak well, was inquisitive, and generally wanted to help people. I decided to try it. It was a great lesson for me, to be ready to take an opportunity even if it makes you a little nervous or you think you aren't prepared.
It was a formative experience, introducing me to the pharmaceutical industry. I found a larger purpose – finding medicines for patients. I also enjoyed getting the chance to work with smart people in the labs and helping them to solve their computer problems.
This led me down a path to work in the biopharmaceutical industry. I have served in various IT roles at Amgen and enjoy staying flexible and looking for opportunities as they present themselves. Throughout my career, I have had supportive mentors to help open doors. One mentor once told me: "If the job doesn't scare you, you probably shouldn't take it."
What do you do in Global Statistical Programming? Can you give an example of your work?
I lead the Amgen team that plans and oversees the execution of all programming of the clinical data packages that are reviewed by global regulatory agencies. This is for new application of, continued defense of, and expansion of use for Amgen's therapies and medicines. The team is made of internal Amgen staff and strategic partners who provide programming capabilities globally and are in locations across the United States, United Kingdom, India, and China.
What do enjoy most about your current position?
It starts with the people. I love working with folks who are smarter than me. It's a privilege to work with such talented individuals. We recognize that we each have our own set of expertise that we bring to the table, either in normal course of work or in an emergency. Everyone is very open to listening and considering my opinion.
The work itself is also fascinating. No day is really the same. While the end result is similar – take data we get in clinical trials and put in format that regulators can understand and review for evidence and safety – no two products are ever the same. It is also fascinating to see how we must frequently evolve our thinking because regulations change so often. The work doesn't really get stale and the fluidity of the environment is stimulating.
What advice do you have for students interested in biotechnology?
Don't be afraid – go for it. And, always be sure to ask the basic questions. I had a mentor once tell me: "Sometimes you are not going to be the smartest person in the room, and that's not why you are there. You are there to problem solve and help bring the best out of others. A lot of times that starts with a question." That was impactful for me.
Think about the things you are interested in. Are you a problem solver? Are you an analytical thinker? Highly technical? Start with those general traits and the job will follow suit. Most of the roles I have had in my career were not jobs I thought about in college. I would suggest students are flexible and go where your interests take you. That will serve you well in terms of your career potential and opportunities moving forward.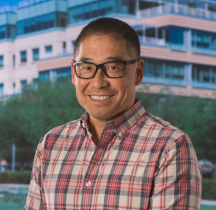 Job Title
Executive Director of Global Statistical Programming at Amgen Thousand Oaks (CA)
Education
Bachelor's Degree in Industrial Engineering
Connect
LinkedIn