Kim Barbato:


Her Journey from One of ABE's First Students to Amgen Professional
Some people embrace change, and others are more resistant, so you can't use the same approach with everyone. Judging what will work with each personality type and learning how to talk to them. It's a lot of empathy and paying attention to nonverbal cues.
When she was just a freshman in high school, Kim Barbato had a transformative experience. She was one of the first students to participate in the Amgen Biotech Experience (ABE) when it began nearly 30 years ago with a single teacher, Hugh Nelson, in Newbury Park, just outside Los Angeles, CA. Barbato had no idea yet that she was about to embark on a biotech path that would take her from the classroom to the lab to high-level business operations at Amgen.
Barbato spoke with ABE about her high school experience and her fascinating 20-year-long career at Amgen.
What do you find most challenging or difficult about your work?
It's honestly about managing human behavior. Some people embrace change, and others are more resistant, so you can't use the same approach with everyone. Judging what will work with each personality type and learning how to talk to them. It's a lot of empathy and paying attention to nonverbal cues. I am definitely exercising a part of my brain I haven't really used in my analytical past. I am growing and challenging myself, stretching a muscle I haven't worked.
What can you tell us about your ABE experience?
It was honors biology class with Mr. Nelson, and I was a freshman while most other students were a year older. I liked science, but I don't know that I thought I was going to go into science as a profession at the time. I liked Mr. Nelson a lot. So much of your perception of whether you enjoy a school subject is what the teacher can bring to the table. He made it fun and he was so enthusiastic about the material, you couldn't help but be infected by that enthusiasm. I went to school in Newbury Park, so Amgen was right next door, and it was still relatively small but had already done big things. The town was so proud of our homegrown biotech. Mr. Nelson set up all these lectures for us to go to on the Amgen campus to learn about the work of their scientists. We thought we were pretty special as students to go over and see what they were doing. It let us connect our lab work to real science, not just the textbooks. I remember them giving us T-shirts that said "I've been cloned at Amgen".
How did you feel about the early lab experience?
Just being able to use equipment we had never seen before, like pipettes at the time, was so cool! Now that I am in industry, it seems so basic, but even running a microcentrifuge was exciting. The work was complicated and took some thought. I had lots of questions about why things worked or didn't, and Mr. Nelson understood it well enough that he could troubleshoot.
How did that experience affect you?
When I graduated from high school, I had this sense I wanted to go into science though I wasn't sure exactly what I wanted to do. I got my degree in genetic engineering, so ABE definitely influenced what major I chose. If I had not had that experience, I don't know that I would have gone into the same field.
What was your first job at Amgen like?
I got my job at Amgen about a month after I graduated from college. I started off at the bench in a department called pharmacokinetics. I had some wet lab skills coming out of undergrad, but the company trained me in their specialized methods. I learned how to run ELISAs [an assay technique for detecting and quantifying substances] and eventually to develop them for clinical trial use. I learned a lot on the job. I also took advantage of a tuition reimbursement program to pursue my MBA while doing the bench work.
How did your career then change over time?
My job today is very different than where I was on the bench 20 years ago. Amgen is really good about developing people, and you're learning from your peers all the time. After working on the bench, an opportunity came up to work with early researchers on discovery work as a research regulatory liaison. My role was to liaise between the regulatory department [responsible for making sure drugs meet required regulations] and [the] very early researchers who are trying to find new innovations that are going to become the pipeline for tomorrow. It was fun being able to speak both science and regulatory "languages" and really serve as that go-between. In that role, there were peaks and valleys depending on the regulatory filings, so I took on additional tasks like budget, space planning, and lab equipment purchases. Tacking on these business-related items was great for me, and I became a jack of all trades. I grew into a role handling budget with a team of 5 people under me and worked on a wide portfolio. I got to know that early research part of the company very well. Last year, an opportunity came up on the corporate side of the company, in a group called the Results Delivery Office. It's still working with R&D, but we work to roll out continuous improvement initiatives. We're almost like an internal consulting group responsible for managing transformations, making sure the company is well prepared for change.
Do you miss benchwork?
When I worked in the lab, I had a tangible output at the end of the day or the end of the week. I had evidence of what I accomplished in the form of data. I do miss that. My work now is more intangible. These are big initiatives that can take anywhere from a few months to a few years to roll out, so my efforts aren't immediately evident. Some other things I liked about the lab was that the people there are more casual; they dress down. Now that I am on the corporate side, here I am in slacks and heels! It's just a different atmosphere.
What advice would you give to students interested in pursuing this career?
The best advice I got was to just be open to opportunities. I came out of school with a degree in genetic engineering, but I never actually did that. I did a lot of other great, exciting things I never thought I was going to do. I think I can speak for most people that I have encountered at this company and in industry: You start off thinking you're going to do one thing, and you never know what opportunities are going to pop up. And if they sound interesting, then go for it. While I may not be in the lab anymore, I still feel like I am very much a part of helping patients at the end of the day, which is what I wanted to do.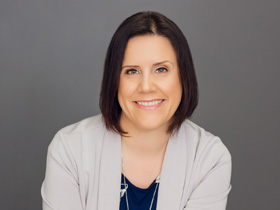 Job Title
Results Delivery Office at Amgen Thousand Oaks (CA)
Education
Bachelor's Degree in Microbiology, Genetic Engineering emphasis; Master's in Business Administration, Dispute Resolution
Connect
LinkedIn