Natalia Wauldron:


Being Part of the Solution to Make STEM More Accessible
The biotech industry now spans into clothes, food, and pesticides to name a few, and not just medicine as I believed. I believe there is a lot of potential in this industry, as alternatives to food and clothes manufacturing are currently on everyone's minds as we look at resource and waste usage in our world.
As a Hispanic woman in STEM, Natalia Wauldron has prioritized mentorship and outreach along her career path. Now 5 months into the Emerging Talent Rotational Program at Amgen in Thousand Oaks, CA, Wauldron is volunteering to virtually visit classrooms to share her story with the Amgen Biotech Experience (ABE) students.
"I noticed within my community the lack of knowledge and guidance given on STEM careers, and I wanted to be a part of the solution to make this information more accessible," says Wauldron who grew up in Louisiana, spending her summers in Mexico City. "It is important for me to see more diversity in this field that is representative of the communities we serve. I also believe this outreach is important as those being mentored will be the leaders of our world in the near future."
ABE spoke with Wauldron to learn more about her journey, including events that happened in high school that would forever shape her path.
What drives you to participate in mentoring and outreach programs such as this? Why is it important to you?
I believe it is an innate response for me to want to participate in mentoring programs, as I grew up with two younger siblings that I have been mentoring my entire life. Personally, having two parents that did not attend college or have the typical college experience, I did not feel that I had the best mentoring growing up and was always seeking a mentor or someone to grow up to be like. From the beginning, I decided I wanted to be the mentor that I did not feel I had for my siblings. This familial response has translated to the communities that I have grown up in, as I have found myself gravitating towards outreach and mentorship programs, particularly in the STEM field.
ABE How did you learn about this career field?
I have been interested in the biotechnology industry ever since I myself was a patient. I thought that at first I wanted to work more closely with medical devices, but given my studies and my way of thinking, I wanted to be closer to the science, even if I am not doing the science now. I think that biotechnology will see dramatic advances in the future as other industries, besides healthcare and pharmaceuticals, turn to biotech solutions. In all, I realized I wanted to be a part of an industry that helps humans and brings them closer to being and feeling their best selves.
Would you please share the story of when you were a patient?
In my senior year of high school, I was diagnosed with a congenital heart defect. It was detected after a series of tests after I collapsed in the middle of a track meet during a race my junior year. I was told that I could live with the defect but that I would need to live with restrictions. As that was something I did not want to do, I decided to get the open-heart surgery needed to fix it 3 months before my graduation. During my recovery in the hospital for the week after, my mother would wheel me down to the bottom floor that was the biomedical engineering floor that had many labs, and for some reason, it really stood out to me. Ever since this experience, I knew that I wanted to do something with my career that allowed me to be close to patients. Ironically enough, my first internship experience was with a company called Boston Scientific, and they manufacture one of the stints they used on me during my surgery!
Is there anything you know now about biotech or the career path you wish you had known in high school?
I honestly do not think that I knew much about the biotechnology industry when I was in high school. I knew I wanted to be a chemical engineer, to some degree, but not that I wanted to be in this type of work. The most typical chemical engineering jobs include working in oil and gas or in a chemical lab, but these did not really interest me as much and thought the job would not be as fulfilling.
Something that might have been interesting to know back then, and is very prevalent for current generations, is the vast diversity in work that is considered biotech. The biotech industry now spans into clothes, food, and pesticides to name a few, and not just medicine as I believed. I believe there is a lot of potential in this industry, as alternatives to food and clothes manufacturing are currently on everyone's minds as we look at resource and waste usage in our world.
Where did you go to school?
I graduated high school in Mandeville, Louisiana. I then attained a bachelor's degree from the Georgia Institute of Technology in Atlanta, GA, in chemical and biomolecular engineering.
How did you learn about the rotational program?
I knew that I wasn't exactly sure what field I wanted to go in, whether it be more engineering-focused work or more business-focused work. I began looking for new hire jobs that allowed me to continue learning and help me figure out what I wanted to do. I happened to find this rotational program at Amgen, and it fulfilled my expectations for my first job out of college. This rotational program is operations based; however, there is a large emphasis on leadership, which is something I really want to enhance on.
What do you enjoy most about your job?
The thing I enjoy the most about my job is the people that I work with. The people are engaged and eager to help, and I think it is the fact that everyone knows there is a greater mission in mind of serving patients.
What is most challenging about your job?
The virtual space [during the pandemic] has made my job challenging as I thrive in a social and group setting. Working virtually has made meeting with people more laborious, requiring more effort on both sides.
What advice would you give to students interested in pursuing this career?
Don't be intimidated by the scary math or science problem! It's all just a big puzzle and you would be surprised by how quickly you can solve it and future ones. Practice, practice, practice, and try and find a bigger connection to your ambitions. Whether you want to produce healthy alternative food items, the latest medicine on the market, or simply want to produce oil or paper, understand that bigger picture and it will help you get through school.
What else would you like students to know about you or about doing the job that you do?
Honestly, I hardly do any engineering- or STEM-related work in my current job, although I am in a technical industry. That is totally allowed, and I kind of enjoy that for the time being. It's enough for me to know that if one day someone were to bring up a chemistry problem, I would be able to know what they are asking. Just because you study something does not mean you have to be an expert or pursue that for the rest of your life. If you have an interest in something, pursue that for the time. If you change your mind later, that is OK too, but know why you are changing your mind. Do not give up on something because it is too hard, but rather, because you think your skills will be better used elsewhere.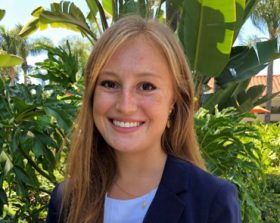 Job Title
Participant in the Emerging Talent Rotational Program at Amgen Thousand Oaks (CA)
Education
Bachelor's Degree in Chemical and Biomedical Engineering
Connect
LinkedIn