Ruchi Sureka:


Meeting Manufacturing Demands 24/7
I love my role as it gives me the opportunity to guide my team through real-time challenges as we troubleshoot in the manufacturing plant.
What drives Ruchi Sureka to work every day is the impact of her work on society. A manufacturing manager at Amgen Singapore, Sureka oversees a team that works around the clock to make sure pharmaceuticals are made safely and effectively. "Often, in everyday minutiae, people forget the bigger picture," she says. "It's such an honor to be given the opportunity to serve patients and make a difference in their lives. I continuously remind myself about how lucky I am to be doing what I am doing."
ABE spoke with Sureka about her job, how she got there, and advice she has for students.
How did you first become interested in science and medicine?
Whether it was learning about the human body or the principles of physics, I found it quite fascinating to learn about science. I remember that my older sister majored in science in high school, and she was fascinated with the things she learned. We used to share a car ride back home from school, and she would tell me about the things she learned in her biology class and how she did experiments; her stories used to blow me away! I have distinct memories of the things I learned from her about science and also how great her teacher was. I couldn't wait to get to high school and learn what she was learning!
What was high school like for you? Was it challenging?
My early science education was in India. In high school, we had to choose to specialize in either science, commerce, or arts. I chose science, which included the core subjects of physics, chemistry, biology, and mathematics; biology was my favorite. I had a great biology teacher in high school who made it super fun to learn and experiment in the laboratory. I owe my love for science to all the great teachers who made the subject so fun and taught it beautifully!
And how about university? What was that like for you?
After high school, I considered choosing medicine as a career but soon realized that it was an extremely competitive field, and there was a long lead time before one could practice medicine and make an impact. So, I decided to pursue a 4-year bachelor's degree in biomedical engineering at Manipal Institute of Technology in India. This way, a substantial part of my curriculum was about biology, which was held in medical school, so I got the best of both worlds, with medicine and engineering.
What were your first jobs like?
After I completed my undergraduate degree in biomedical engineering, I interned at Philips Medical Systems in Bangalore, India. After that, I decided to get a master's degree and applied to schools in the United States. I chose to go to Northwestern University to do research in the field of neurodegenerative diseases. My mother suffers from Parkinson's disease and, as there's no known cure for the disease, I wanted to get closer to the research in this field and find out more for myself. I researched Alzheimer's disease in William Klein's lab, and my thesis got published in the journal Nature Nanotechnology.
After this research experience, I wanted to see how I could apply the same scientific method I had used at the university to create some tangible value for society. I joined AuraSense Therapeutics (now called Exicure, a Bill Gates-backed startup) as their third employee and supported several different projects related to nanotechnology applications for cancer therapy. After a couple of years of largely technology- and lab-based work at AuraSense, I wanted to be closer to the manufacturing of a product, so I moved to Bio-Rad Laboratories. Starting my career at a startup was a formative experience that has shaped my work ethic and defined the ownership I take for any task or project I am assigned.
How did you end up at Amgen?
My husband wanted to pursue an international assignment with his company, and we chalked out a list of countries that we could both make work from a professional standpoint. My husband found a role in Singapore. I interviewed with Amgen and took on the role of a frontline manager in their biologics manufacturing plant in Singapore. I loved the challenge of a new industry, a new schedule, and a new team!
What is your role at Amgen?
I am a manufacturing manager at Amgen's first commercial single-use biologics manufacturing plant. I have a shift team of 30 people who manufacture medicines for osteoporosis and migraines. I work on a rotating 12-hour day and night shift. My job is to make sure that there's continued manufacturing and that all issues are addressed on the manufacturing floor. I also work to ensure that my team is happy and has high spirits when they are at work; keeping them motivated is a big part of what I do.
Is there anything you wish you had known about in high school to better prepare you for this career?
Yes, I wish there were more internships back when I was in school. I would have liked to be exposed to more career paths and possibilities in my high school. I know that now schools are doing a better job of exposing students to their alumni from various industries, but that was not the case when I was in school.
What do you like the most about your job?
I love my role as it gives me the opportunity to guide my team through real-time challenges as we troubleshoot in the manufacturing plant. My job also gives me the freedom and choice to play a crucial part in supporting my team's developmental needs so I can help them become sustainably better at their craft.
What do you like the least about your job?
I don't like working a night shift from 8 pm to 8 am. It's extremely challenging both physically and mentally. But having this experience has made me realize how important 24/7 services are, and I am more sensitive and grateful to folks who provide these services—from grocery stores to hospitals. My appreciation for folks who work on shift has grown by leaps and bounds.
What advice do you have for students now?
Be sincere and passionate about the field you choose. If you are sincere, you quickly gain people's trust and respect, making it easier for you to progress in your chosen field. And if you are passionate about your work, you will look forward to coming to work every day and enjoy every minute of it.
Is there anything else you would like to add?
I was the first woman frontline manager for this site, and it's been a very good learning experience for me. I am also one of the founding members of Singapore's chapter of WE2 (Women Empowered to be Exceptional), an employee resource group at Amgen.
I have a 4-year-old son and a husband. When I took this job, my son was only 2 years old, and it was very challenging to balance work and family with my changing and demanding schedule. I got a lot of support from my family, and they made a ton of sacrifices for me, which I am extremely grateful for.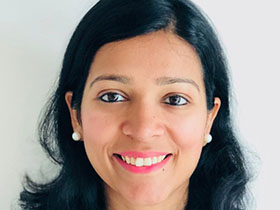 Job Title
Manufacturing Manager, Amgen Singapore
Education
Bachelor's Degree in Biomedical Engineering, Master's Degree in Biomedical Engineering
Connect
LinkedIn