Sunny Montas:


From Athletics and Law to the Marine Corps and Biotech: A Varied and Rich Career
I never would've thought that I'd have ended up in biotech. Now, I can't imagine not being here.
Growing up in Union, New Jersey, Sunny Montas often thought of herself as an athlete first. She played three sports in high school—tennis, track, and softball—and then went on to do athletics at The College of New Jersey. The daughter of immigrants from the Philippines, she felt pressure to succeed in academics as well, choosing to study criminal justice in college as a pathway to becoming a lawyer. Ultimately, those interests converged on the Marine Corps—a path that enabled her not only to complete her law degree but also later degrees including an MBA, while continuing to be physically challenged, and ultimately applying her leadership skills as legal counsel at Amgen.
Featured in our recent story about veterans at Amgen, Montas sat down with us to talk more about her unique career pathway, including a fellowship that introduced her to the biotech industry.
What do you do at Amgen?
My official title is biopharmaceutical operations counsel. I work for DROC, which stands for Development, Regulatory Operations and Contracting. And there are 44 people in my department. 
Can you break that down a bit? Can you give an example of what you work on?
When you get a prescription, it comes with these sheets of paper called the "Instructions For Use." One thing I do is work with human factors studies to find ways to improve those instructions for use, to make them more patient friendly so that the patient who is using the product can safely deliver their required dosage. I will advise on studies, including legally looking at the informed consents that the participants of that study have to sign before they can participate. That's a big part of what I do.
So you have a law degree, right?
Yes, and before Amgen, I was a lawyer for the Marine Corps. The Marine Corps is the smallest branch of the Armed Services and also different from the rest. Every person who calls themselves a "Marine" has completed Marine Corps boot camp or Officer Candidates School (OCS) and has completed infantry training, both in the field and academically. That's different from the other branches of service that have staff corps who only do professional careers, like Tom Cruise and Demi Moore in the movie "A Few Good Men."
So, I'm a judge advocate, but I'm a Marine first, which means I had a very mixed career because I was not always serving as a lawyer. I spent a good chunk of my career as a lawyer, but I also spent time outside of it. Both my combat deployments to Afghanistan were in operations or operations related, and even on my last tour in the Marine Corps, I was an operations officer, which had nothing to do with law at all.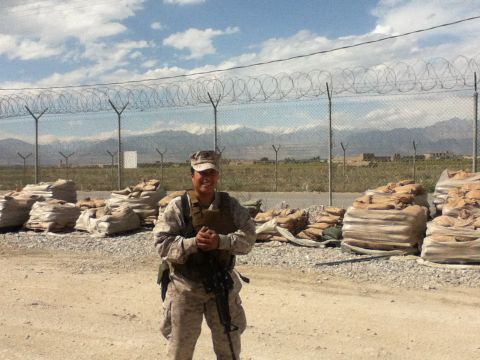 Montas at Bagram Air Force Base in Afghanistan.
Then how did you come to work at Amgen?
I officially retired from the Marine Corps in February 2021, but when I was leaving service in 2020, I took advantage of a program called Hiring Our Heroes. It's a corporate fellowship program, where for 12 weeks, whatever unit you belong to, they give you permission to essentially take a paid leave of absence to work with a company. It is to help you learn about that corporation, as well as helping with your transition from leaving the military into the civilian sector. And so what it really does allow you to do is kind of, like, peek behind the curtain to understand how civilian industries work. I did my fellowship with Amgen. And quite serendipitously, during that time that I was in my fellowship, there was an opening for an operations counsel. I thought "oh, my gosh, it's the two things I did in the Marine Corps: operations and law."
What has that transition been like, to working at a biotech company?
I can honestly say, I did not know where I was going to be after my time in the Marine Corps. But I did know I wanted to pivot away from the defense industry and do something new that was going to challenge me. I spent 22 years of my life in public service. And now I get to spend this next phase of my career in service as well because our mission is to serve patients.
What led to you joining the Marine Corps in the first place?
When I was in college, a flyer was slipped under my dorm room door that said that if you tried the military for 10 weeks, you would make $3,000, which was a lot of money back then. I called the number on the ad, and it was a Marine Corps recruiter. And the more and more he talked to me about it, the more and more I thought about certain privileges I had in my life to that point by virtue of the fact that I was just born in the United States. As I mulled over it, I talked to one of my coaches. I said "I'm not so sure if I want to do it. I don't know if it's for me." She actually said, "Yeah, I didn't think you could do it anyway." And then I went in to call the recruiter back and said I was going to do it. 
At that point, I knew I wanted to go to law school and be a lawyer. As a student athlete, I also had this concept of how I defined myself and thought, oh this is "play time" and I'll have to get a job. But I didn't want the part of my personality that made me who I was, the athlete portion, to die off because I had to "grow up" and get a job. So part of what made the Marine Corps appealing was that I still got to be a student athlete. I was attracted to that challenge. 
I contracted to join the Marine Corps while I was in college, attended OCS after my first year of law school [at the University of North Carolina, Chapel Hill], and then completed law school before beginning the remainder of my infantry training.
What did your family think?
I am a child of immigrants. My parents actually met in the United States, but they both immigrated from the Philippines in the early 1970s. And when I told my parents I was going into the military, they were actually pretty upset with me because I think that as immigrants, they had visions of grandeur that I would become a corporate attorney and take care of them. Don't get me wrong; they're tremendously proud that I have served my country, and I retired from the Marine Corps. And they're really proud that I'm with Amgen now. It just wasn't the path that they had seen for me. 
Is there anything you wish you knew before you began your career path that you know now?\
My parents couldn't inform me on things that they didn't know about. And in the Philippines, it's only grades that got you to college. My parents thought I was wasting my time with athletics; they actually got really mad at me for being involved in extracurricular activities because they didn't know any differently. They thought only grades get you into universities. In the United States, it's more of that well-rounded picture, which they didn't understand. As a result, I did not understand that I could pursue any major in the world and still go to law school. I picked criminal justice, as that was the route that I thought was going to lead me to law school. I had a colleague whom I went to law school with who majored in culinary arts in college and became a chef. It's important to remember that if you are passionate about something, go ahead and do that. 
What do you like most about working in biotechnology?
Every day, there is something new that pops up, which is really cool. That requires me to do more research and talk with people who have more historical background on Amgen and the industry as a whole. I really enjoy it. And I never would've thought that I'd have ended up in biotech. Now, I can't imagine not being here.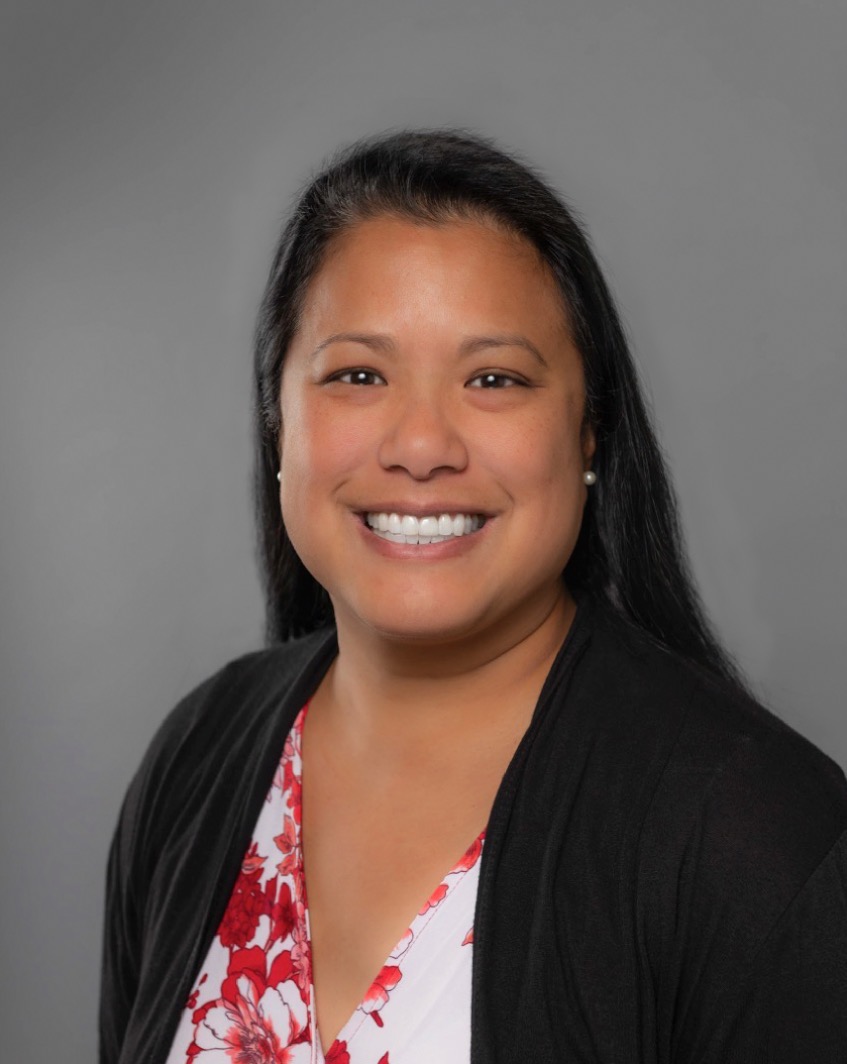 Job Title
Biopharmaceutical Operations Counsel, Amgen Thousand Oaks (CA, U.S.)
Education
Master's in Business Administration, Master of Law, Doctor of Law
Connect
LinkedIn