Yusdy Pan:


Carving a Path to Biotech with Grit and Perseverance
To keep relevant in the future, my advice is to focus on the first principles of science: stay curious and have a growth mindset to learn and to explore new challenges.
For Yusdy Pan, the path to his work in biotechnology has not always been easy. Growing up in Indonesia with limited financial resources, it took grit and perseverance for him to pursue chemical engineering abroad in Singapore and ultimately get a PhD in bioprocessing, a field that uses biology to create industrial products. He has applied that expertise to manufacturing biopharmaceuticals at Amgen Singapore.
Pan spoke to ABE about his early inspiration in science, his educational path to Amgen, and advice he has now to current students.
How did you first become interested in science?
I was born and spent my early life in Indonesia before migrating to Singapore for graduate studies under a scholarship program. My fascination in science and engineering was perhaps started when observing how my late father formulated and produced his own perfume and sold it to markets for a living. It was a small home industry with homemade equipment and tools, including recycled plastics, containers, and metals. It took tons of creativity and self-learning to come up with something like that back then, especially with limited resources in an underdeveloped country. My dad completed his secondary school and was the top student in science and math, but sadly, he was not able to pursue school further due to financial reasons. This situation led me to appreciate any opportunities that I came across. Strong curiosity, gratefulness for opportunity, and economic pressure have shaped my personal grit to excel in school and career.
What did you study in college? What was it like for you?
I did my undergraduate study in chemical engineering at Gadjah Mada University, one of the top universities in Indonesia, which produced many great leaders in Indonesia, including current Indonesian President, Mr. Jokowi. It was my passion in chemistry and math that got me into chemical engineering. Ensuring diversity, the school selected students from different states with various backgrounds. Unfortunately, most students had limited financial support. I had a friend who walked 3 hours daily to school to save on bus fees, and I had another friend who could not afford to upgrade his glasses and had to read books from 5 inches away, moving his head along the lines as he read. That however did not stop them from doing well in school. This social experience has been extremely invaluable for my own career, fueling the perseverance that I need to go through every single challenge and failure.
Where did you go after undergraduate school?
Later, I received a scholarship to pursue my graduate studies from Singapore MIT Alliance program, a collaboration program between the two world prestigious schools: MIT and the National University of Singapore. I was fortunate to be able to work on my doctorate thesis in the area of bioprocessing under the supervision of bioprocessing pioneers Prof. Daniel I.C. Wang and the late Prof. Miranda Yap. My doctoral work and network connections had led me into this biopharmaceutical industry.
Where was your first job?
After completing my doctoral study in 2010, my first job was with Lonza Biologics at Singapore, working as a purification process engineer to support plant start up, technology transfer, and process validation. Later on, I moved to AbbVie for a bigger role to lead a purification process team.
How did you end up at Amgen?
I had been interested in biotechnology since my school time because of the innovation and cutting-edge technology that the industry was pursuing. Later in college, I recall that one of Amgen's products was taught as a model of recombinant technology and bioprocessing.
Around 2014, Amgen started building the Amgen Singapore Manufacturing plant and investing in next-generation bioprocessing technology there. I was interested in an opportunity to work as a principal scientist within the Amgen Singapore Process Development Department where I would lead the process and material sciences team and support process improvement, troubleshooting, investigation, etc. During my tenure in this role, I led the team to build a new 4,000-square-foot next-generation process development laboratory in Singapore. Later on, my manager posted me to a role to lead the new product introduction and technology transfer to the Amgen Singapore Manufacturing site, a role that I am still doing today.
So, what do you do in your current role at Amgen?
I apply science and engineering to save patients!
I am currently a director of process development. My team is responsible for leading the transfer of Amgen biologics processes from other Amgen sites to the Amgen Singapore Manufacturing facility, or vice versa. We are also responsible for process performance qualification, a critical step to demonstrate that a medicine can be produced consistently to meet the product quality and safety requirement.
I am currently in transition to a new role to lead the biologics process team, which includes cell culture, purification, and material science.
What do you think is the future of the field you are in? What trends do you see?
The latest advancements in technology have opened Pandora's box in biology. We are getting better in understanding the root cause behind diseases and getting smarter in designing drugs to target the root cause. This leads to the current trends in personalized medicine, cell therapy, advanced drug delivery system, etc.
What we need next in this industry is higher productivity and faster, more-efficient systems—from discovery, manufacturing, and to commercial sales—to help to reduce the cost of medicine. This can be achieved by data science, automation, and multidisciplinary collaboration.
What advice do you have to students now?
Many of today's jobs did not exist 20 years ago. To keep relevant in the future, my advice is to focus on the first principles of science: stay curious and have a growth mindset to learn and to explore new challenges.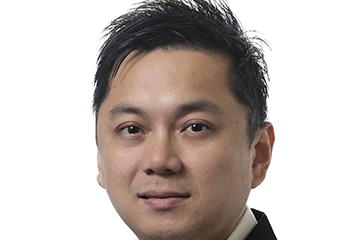 Job Title
Director of Process Development, Amgen Singapore
Education
Bachelor's Degree in Chemical Engineering, PhD (unspecified)
Connect
LinkedIn