As part of Singapore's heightened safety measures during the COVID-19 pandemic in the spring of 2020, schools there shifted to full home-based learning for 1 month. Though challenging, the pandemic created an opportunity for ABE Singapore to explore new ways to bring biotechnology to its students. Singapore and other sites globally are now leveraging the power of virtual learning platforms in combination with the ABE labs to meet the needs of the modern "classroom," whether done virtually or in person, and to build a community around biotechnology.
"The hands-on approach is one of the strongest unique selling propositions that ABE offers, as hands-on lab experience is something students don't usually get in school," says Associate Professor Lim Tit Meng, chief executive of Science Centre Singapore, which leads ABE Singapore. The launch of virtual science learning platform LabXchange was timely, he says, as it enabled online learning when schools were closed due to COVID-19. "Given the success with LabXchange and these unprecedented challenges, we have now explored more programmes based on a blended approach combining online and onsite learning experiences like never before."
Indeed, ABE Singapore's upcoming teachers' workshop will take a "blended approach," a mix of virtual and on-site activities. The site will conduct pre-workshop tutorials using specially developed pathways in LabXchange, followed by hands-on lab training, either held virtually with materials sent to the school in advance or onsite at the Science Centre.
"The pandemic has accelerated the drive for digitalization, which will continue beyond COVID-19," Dr. Lim says. In addition to the blended approach for professional development institutes, he says that he anticipates schools will implement home-based learning with more regularity, now that Science Centre has the capabilities to offer students opportunities for more self-directed learning.
In addition to this blended approach, ABE Singapore is also working on several initiatives to spur science discovery in its local community. Working closely with Amgen Singapore Manufacturing, the Centre has helped ABE teachers and students gain valuable insights and real-world biotechnology applications by visiting the local Amgen biomanufacturing facility. To help show  students' various STEM career options, the Centre also organized a panel discussion last fall with Amgen Foundation President Eduardo Cetlin and Dr. Cen Xu, Amgen's scientific director for neuroscience.
Image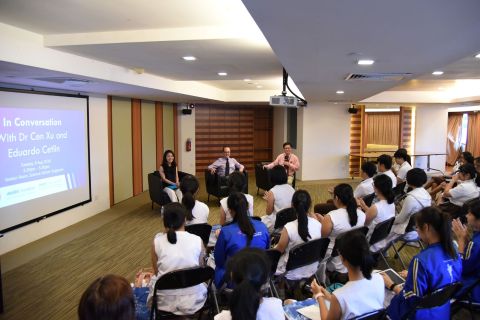 "The students clearly found the discussion inspiring as they learnt about Dr Cen Xu's unconventional career path and how she honed her skills to eventually become a co-inventor for the first FDA-approved treatment to prevent migraines. Many also came forward to interact directly with the speakers to seek their advice and hear their experiences," Dr. Lim says. "This demonstrates the power of ABE, not just in being a conduit in providing scientific content and literacy to the students, but also a vibrant channel to provide fresh perspectives and guidance as students explore and make their career choices."
ABE Singapore is also engaged with community outreach efforts, which have included workshops for disadvantaged communities and a learning booth at the Singapore Science Festival in 2017 where ABE students became ambassadors to engage the public in simple science activities (such as how to use the micropipette). "We are expanding the reach of ABE Singapore beyond the confines of the Science Centre to reach more people in the community so that various groups can, too, become excited with the possibilities of science and can likewise join us in this science discovery journey," Dr. Lim says.
As ABE celebrates its 30th anniversary, sites like ABE Singapore will continue to evolve, to create new enriching scientific experiences for students globally. "We are honoured to be part of this ABE global community and look forward to bringing about more transformative impacts for our students," Dr. Lim says.