Bryan Yee:


Unlocking New Questions Through Data Science
I realized there are many parts to the problem of bringing a potential molecule to the
market for patients. And there are so many different skills that are needed to do that well.
On a day in early March 2022, Bryan Yee, director of knowledge management at Amgen, was eagerly anticipating returning to the Amgen campus in Thousand Oaks, California, for a workshop. It would be his first return to campus in about 2 years. In addition to seeing the contents of his locker for the first time since the campus shut down in March 2020 due to the COVID-19 pandemic, he was most looking forward to reconnecting with other coworkers who might also be onsite that day.
"What I'm really looking forward to is having a chance to connect and hopefully bump into some people, which does not happen in the same way in the virtual environment," he says. As a director in research and development who is focused on knowledge sharing and culture, Yee spends a lot of time thinking about how to best connect people and ideas using a variety of approaches, including technology and data science
"I get to do something that I would not have imagined myself doing 15 years ago. I lead a team that is building a knowledge management capability for drug developers at Amgen. We are using data science to solve business problems around how we surface knowledge that's in people's heads and make connections to help our organization perform better," Yee explains.
Biotechnology in general was an unexpected landing point for Yee. Even though he grew up in Southern California only 45 minutes north of Amgen's campus, he had no idea that the company even existed in high school. In college at California Polytechnic State University, San Luis Obispo, Yee studied business and information technology. It was in the early 2000s, he says, prior to the iPhone—an important milestone because he says that the iPhone fundamentally changed our view of technology and human relationships. "And that's when I got an interest in the power of data and what it means to have so much data at your fingertips," he says.
Yee was also inspired to go into biotechnology at that time due to a family member who had osteoporosis, a disease that was being actively worked on at Amgen. "I remember thinking, I'm not going be the person in the lab with the pipettes, but what can I bring to that challenge?" he recalls. "I realized there are many parts to the problem of bringing a potential molecule to the market for patients. And there are so many different skills that are needed to do that well." 
In his current role in research and development, Yee works on new approaches to quickly bring insights to individuals in a personalized way, making connections between people, experiences, resources, and data that can help them best develop medicines. "We've created a culture of storytelling as a way of sharing," he says. "Knowledge doesn't flow when it doesn't speak to somebody. And my team has developed a storytelling capability and platform to tell the stories of the learnings of our drug developers, and then to use our data science capabilities to help connect those learnings to the right people at the right time.
Giving a platform to people who haven't had a strong voice in the workplace in the past is an important part of Yee's work on corporate culture, including developing ways to bring psychological safety to the workplace. While there is often an emphasis on bringing potential drugs to market more quickly, he says that there cannot be speed at all costs. "We want to ensure that staff feel empowered to speak up, bring ideas to the table, and own their decisions," he says. "I'm especially proud that we, as a development organization, are striving to embrace concepts such as psychological safety in the workplace; it's really helped staff to realize that, in addition to being the right thing to do, it also is helping us achieve our business goals."
When Yee speaks with ABE teachers, he challenges them to encourage students to be curious in everything they undertake. Curiosity is especially important, he says, in a world where the volume of data being generated every minute is growing at such a fast pace. Learning more about what data exist, especially in the biosciences, allows someone to ask deeper and more complex questions. 
"That curiosity, to link data to questions, opens the path to working with others to finding the answers," he says. "That unlocks a whole world where computers can be used to find patterns that humans wouldn't be able to find in a year, in minutes. But it all starts with the fundamental concept of understanding how data sets can be linked together and having a curiosity to ask really good questions."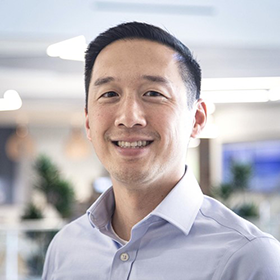 Job Title
Director of Knowledge Management, Amgen Thousand Oaks (CA, U.S.)
Education
Bachelor's Degree in Business Administration and Information Systems
Connect
LinkedIn