Michael Cavacas:


Thinking of Science as a Team Sport
Always try to look into new opportunities and not be closed to them no matter what they are.
Michael Cavacas spent his childhood playing baseball never giving much thought to science. In high school, though, he had an AP chemistry teacher who would introduce him not only to the field of chemistry but also to the biotech sector. Cavacas would go on to study chemistry in college, graduating in 2015, and work in biotechnology. Now at Amgen in Rhode Island, Cavacas works as a senior associate scheduler in manufacturing. In this video, he reflects on his career path and how playing baseball has helped him in his current job.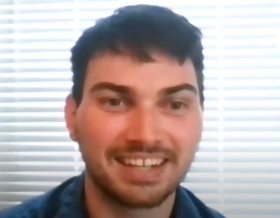 Job Title
Senior Associate Scheduler in Manufacturing, Amgen Rhode Island
Education
Bachelor's Degree in Chemistry
Connect
LinkedIn