When Wendie Johnston was in college in the late 1950s and early 1960s, there was no double helix yet in the textbooks. "Back then, it took 10 years to get new information into a textbook," she recalls. "We didn't have access to the kinds of information we have now."
Now director of the Pasadena Bioscience Collaborative Incubator, a biotech incubator in Southern California, Johnston is an unlikely hero for the Amgen Biotech Experience (ABE). Over the past few decades, her work, including training ABE teachers and students and making lab solutions, has paved the way for a new cadre of bioscientists.
Johnston got her undergraduate and graduate degrees in zoology—the closest major she could get to molecular biology in Southern California at the time—and would then go on to become a community college biology professor. While taking molecular biology lab courses in the early 1990s at California Lutheran College for professional development, she met Marty Ikkanda, a biology professor at Pierce College in Los Angeles, who was working on a brand new program with Bruce Wallace at Amgen to deliver a hands-on biotech curriculum to local high school students.
"It was really good," Johnston recalls of the early curriculum she saw for the program, which would become ABE. And that encounter would lead not only to a lifelong friendship with Ikkanda but also to a lasting relationship with ABE.
Johnston would spend the next few years doing externships and gaining diverse lab experiences to translate into new curricula and approaches for the classes she was teaching at Pasadena City College. She knew that the future of molecular biology was biotechnology and saw a huge gap between the educational system and the industry. Her work focused on bridging that gap with practical coursework and training.
Johnston's lab at Pasadena City College grew to house entrepreneurs working to spin out their research into companies, including a start-up that was using the technology from the Caltech lab of Nobel Laureate Frances Arnold. And eventually, Johnston saw the need for a more formal incubator for biotech startups. What began as 500 square feet in the back of the lab grew to be Southern California's first biotech incubator, now at 12,600 square feet, with more than 30 companies.
Image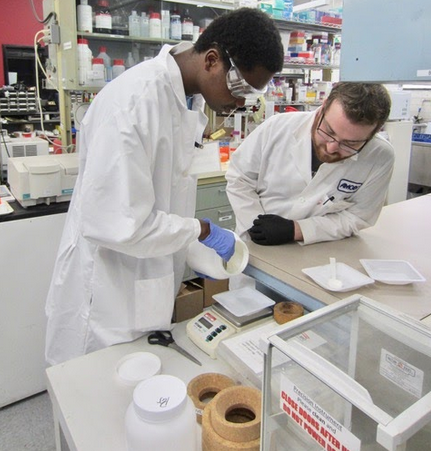 In addition to housing startups, the incubator has hosted training sessions for ABE teachers, taken on interns from the ABE community, and created the solutions necessary to perform ABE labs. In a normal year, she says that they provide lab consumables to about 60 high schools, serving about 9,000 ABE students.
For Johnston, the workforce begins with high school–aged students, and her work has helped to grow the Southern California biotech workforce bottom up and top down. "Companies must have access to equipment and students, and for me, it made sense to tap the local high schools in addition to colleges."
A consummate educator, Johnston sees the fruits of her labor every day, even when training a new intern on using a pipette. "If they aren't looking at the tip of the tube, I know this isn't the right place for them, and that's OK," she says.
The past year has been one of adaptation, with the COVID-19 pandemic pushing much of the work online. But, Johnston says that she feels fortunate to have a vast network now onboard— including 16 community colleges in Los Angeles County that are training students in biotechnology: "We're doing a job that needs to be done and standing on the shoulders of amazing people who paved the way."