This story is part of a blog series on the ABE Master Teaching Fellows. 
Although the school year is just starting to kick off in the Northern Hemisphere, it has been going strong for months in Australia. There, in two different low socio-economic areas in New South Wales, two teachers have been working on new curricula to engage their students in biotechnology. At both Mount View High School and John Therry Catholic College, about 2 hours north of Sydney and 45 minutes south of Sydney, respectively, ABE teachers are using their Master Teacher Fellowships to reach students in new ways. 
"John Therry has a strong, and proud, Indigenous student population," says ABE teacher Jo-Anne Donaldson. "I think it is important to teach high school students about biotechnology because it affects our everyday lives. Having taught ABE to close to 100 students, I find students are engaged in learning about the scientific processes they hear on the news." This includes, she says, how biotechnology helps to treat common disorders such as diabetes, which affects many of her students.
Jo-Anne Donaldson with her students at John Therry Catholic College in New South Wales, Australia.
At Mount View High School, only 5% of the students have parents who have studied at the tertiary level and "20% of our students identify as Aboriginal or Torres Strait Islander," says Anna-Maree Wells, who used her ABE Master Teacher Fellowship to created a differentiated teaching and learning sequence for students in her Investigating Science class.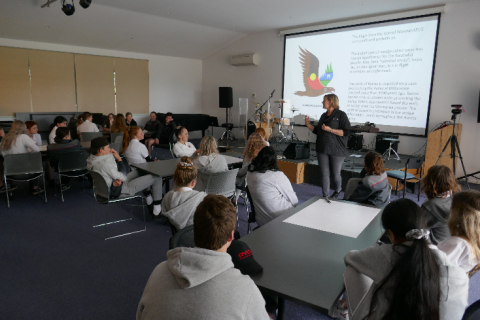 Anna-Maree Wells at Mount View High School in New South Wales, Australia
For Wells, the fellowship was a way to "dip her toes" into professional development without the extended time commitment of postgraduate study. Teaching science has been a second career for Wells, who started her career in a biomedical science lab. Seeking more social interaction, she retrained as a teacher in her 30s and now finds working with young people "rewarding and dynamic."
Donaldson also started her career in a different place than teaching. Although she went to college at 18 and studied teaching (along with biochemistry, microbiology, analytical chemistry, and inorganic chemistry), "after completing my degree, I felt that teaching wasn't the right fit and pursued my dream of becoming a police officer," she says. "My career lasted for 12 years. After having my children, I was looking for a career change that would challenge me. A dear friend of mine suggested that I try casual teaching. I have never looked back."
Now 11 years into teaching, Donaldson still loves the challenge it presents, finding new ways to engage students and boost academic performance. The focus of her Master Teacher Fellowship was to create a curriculum resource about regulations and codes of conduct surrounding scientific research. "I think that teaching students how to correctly structure and ultimately answer a question changes a student's view on learning and empowers them to succeed academically."
For both Donaldson and Wells, the Master Teacher Fellowship has connected them in a powerful way to a community of colleagues from around the world. "I have valued making professional connections with other teachers both in Australia and internationally," Wells says. "It was also useful to have professional discussion about various aspects of quality pedagogical practice and recognize that good teaching looks similar across the world. I look forward to using the teaching and learning sequence with next year's Investigating Science class and other teachers who would like to incorporate the ABE program into their Investigating Science program."
Says Donaldson: "All the teachers involved in the Master Teacher Fellowship experience were kind and genuine, and I found it interesting that we were all concerned about similar things, such as how COVID has affected our students' literacy and numeracy skills and how to improve these skills. These teachers and I are genuine lifelong learners."