In August, the ABE Hong Kong SAR program gathered together educators and students who shared a common interest in science. Looking through the photos of the event shared on the ABE Hong Kong Facebook page, the success of the event was clear: From hands-on demonstrations to diverse talks on how to nurture the next generation of scientists, the annual gathering celebrated various aspects of the ABE program.
Sharing these experiences with the broader ABE community through social media is a key goal of the Hong Kong site, which maintains active Instagram, Facebook, and Twitter (X) accounts. "Social media provides a platform where I can engage with others who are enthusiastic about biotech, biochemistry, and biology, says Cian Wu, a member of the ABE Hong Kong team at The Chinese University of Hong Kong. "I share my passion for biotech and science, engage with like-minded individuals, and create meaningful connections with students, teachers, and the general public. Through knowledge sharing, discussions, and interactions, we can make science more accessible and enjoyable for everyone."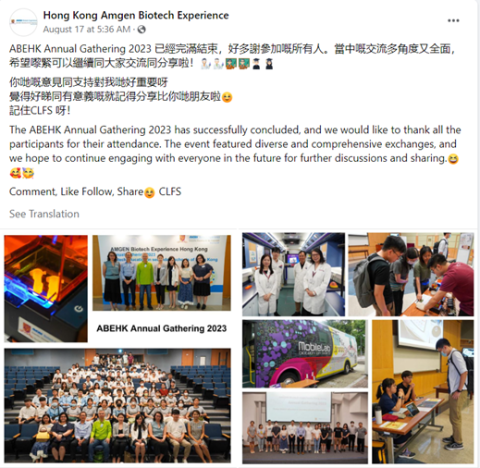 Indeed, not only do the social media accounts provide the opportunity to share news about ABE events, but they also provide an opportunity to extend the educational reach of the program. On the site's Instagram account, for example, ABE Hong Kong shares scientific knowledge through infographics and videos, with a goal, the team says, to make "complex topics more accessible. They add that the platform's interactive features also "facilitate interactions between individuals from diverse backgrounds, creating a community where discussions and learning can flourish."
The team also enjoys integrating ideas from other programs such as LabXchange into its social media posts, as well as featuring interviews with ABE team members. Oftentimes, a post on Instagram will link to a longer story on the program site's Facebook page. A great example of this is a series of interviews ABE Hong Kong conducted with undergraduate students about their experiences with ABE and how it has shaped their career journeys.
In a recent post, Gordon Yung, a former ABE ambassador, shared how his involvement in the ABE Hong Kong community as an undergraduate student provided him with valuable practical knowledge, exposure to real-world challenges, and the opportunity to develop problem-solving skills along his path to becoming a production technologist at a biotech company in Canada. "I was given an environment that allowed us to make mistakes, learn from them, question the system, and improve upon it. That is the scientific method and how it changes the world, one experiment at a time," he wrote on the ABE Hong Kong Instagram and Facebook accounts.
"We want to emphasize that the ABE Hong Kong community is not just a one-way source of inspiration but a platform for mutual learning and exploration," Wu says. "Sharing Gordon's success story showcased the positive impact on individuals, demonstrating how they grew and improved within the community."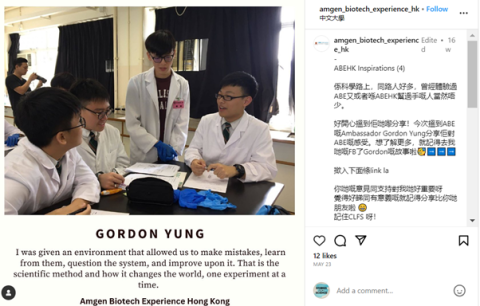 The ABE Hong Kong site advocates for other ABE sites to use social media to reach a broader range of individuals interested in biotechnology and science education. "By leveraging platforms like Instagram, Facebook, and Twitter [X], ABE sites can effectively disseminate information, share updates, and engage with their target audience," the team says. "Social media channels also provide a powerful tool for inspiration. A single post or story shared on social media can spark interest and ignite a passion for biotechnology in someone's life."
Ultimately, the ABE Hong Kong site aspires to empower individuals to make a meaningful impact in the sciences. By connecting and inspiring people within the ABE community, their hope is to create a ripple effect that inspires a new generation of scientists and thinkers who will shape the future.