Over the years, students in Wendy Wooten's biomedical science classes have heard varied stories about career paths into biotechnology, each one making an impact: 
A research scientist's parents wanted him to be a doctor, but he decided to pursue research instead. He later told his parents upon the first drug approval he helped with, "I have now helped 100,000 people, something I could have never done if I became a doctor."
An epidemiologist spoke during the COVID-19 pandemic about her work and ways students could protect themselves. She later went on to mentor some students in a science competition.
A top executive recalled wanting to go into healthcare to make a difference but feltlike he did not have the money or resources to succeed down that path. He ultimately discovered foundations that could support his dreams and then went on to lead a foundation himself (Eduardo Cetlin, pictured above, and below with ABE teacher Wendy Wooten).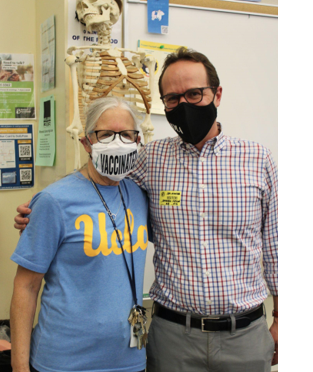 These are but a few stories from the volunteers who have visited Amgen Biotech Experience (ABE) classrooms, and they are all from just one teacher's class—so only a sliver of the hundreds of visits around the world that Amgen biotech professionals have done, both in-person and virtually, to share their stories with students. 
"Every single speaker has been amazing," says Wooten, a biology teacher at Reseda Charter High School in Southern California (ABE Greater Los Angeles Area). "The kids are just so engaged. They're so interested. They just don't stop asking questions. All the speakers relate to the students by talking about their own experiences from high school until now."
For the participating Amgen volunteers, the visits are a way to give back and to provide a perspective that many of them wish they had in high school. "It has been a great opportunity to teach people about how even if you're a science 'geek,' you don't have to work in a lab," says Michael Gruttadauri, who works in field sales at Amgen. "In my own recollection of high school, we never really had exposure to all the types of careers you can do."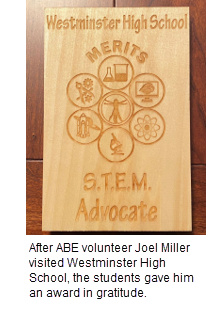 Indeed, ABE volunteer Joel Miller, who works in IT and design at Amgen Thousand Oaks, says that it's vital for students to see various career paths, including in newer areas. "The sort of work that I do now didn't exist when I started at Amgen 30 years ago," he says. "It's important for students who are interested in science or technology to know there are other dimensions of it for those who might have a more creative kind of impulse, and that a lot of work in sci-tech is very creative."
Stacey Hill, an ABE Massachusetts teacher at Doherty High School in Worcester, says that there is tremendous value in students seeing how many different roles there are in private companies like Amgen. "It's great for my students to see that these kinds of companies hire all kinds of different people for different kinds of jobs," she says. "Most high school students have very little idea what any job really is, so any exposure is great. All of our volunteer speakers have been very open and willing to talk about their personal stories and the paths they took to get where they are."
Many of the ABE classrooms that volunteers visit are located in low socioeconomic-status communities, such as the community in which Hill teaches, which has a large immigrant population. For these students, hearing not only about the volunteer speakers' successes but also about their challenges can be inspiring and empowering. "It's wonderful for kids to hear these personal stories, including their challenges and how they influenced their decisions."
Melissa Puopolo, an ABE Massachusetts teacher at Chelsea High School, says that the most successful volunteer visits have been those in which the speakers have connected on a more personal level with the students. Even if the speaker comes from a different background than her students, it's important for the students to know what opportunities exist and how they might tap into them, even with more limited personal resources. 
Puopolo herself worked in biotechnology for 10 years before switching to teaching for the past 14 years. She is driven to work not only with underresourced students in her community but also to interact with other teachers in the region, to help them continue learning and keep up with technology through ABE.
Working as a principal senior scientist at Amgen San Francisco, Ingrid Rulifson has a similar drive, to help train the next generation of scientists. Rulifson has done many classroom visits to talk about her path into science, as well as providing mentoring and developing curriculum to support ABE students. Interactions between students and professionals like her are important, Rulifson says, in teaching students new communications skills.
"When young adults learn how to communicate with people outside of their typical environment, it will help them in college, when they have to talk to their professors and consider opportunities," she says. "In general, I stress to students that no matter what you do, whether it's biology or something else, look for your champions, the people who can encourage and guide you, and nurture those relationships because they can make a big impact no matter what you end up doing."
Ultimately, says Gail Peragine who works in sales at Amgen, the ABE volunteer visits create strong partnerships with the teachers. She loves giving back to the community, finding the visits personally rewarding. "The students have been tremendous," she says. "Their lively participation and questions made the experience a lot of fun."